CFD Module
A Solução Multifísica para Simulações Computacionais de Fluidodinâmica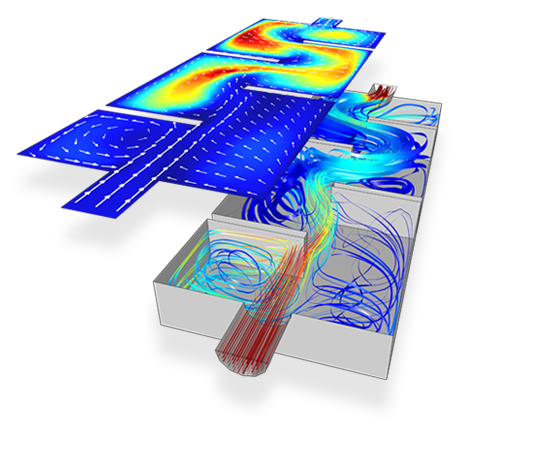 Comparação do escoamento de uma aproximação 2D e de um modelo 3D de um reator turbulento com defletores.
Para todas as aplicações que envolvem escoamento
O CFD Module é a plataforma para simular dispositivos e sistemas que envolvem modelos de escoamento sofisticados. Da mesma forma que todos os módulos do COMSOL, o CFD Module oferece interfaces físicas prontas e configuradas para receberem entradas de modelo pela interface gráfica do usuário (GUI) e para usarem essas entradas para formularem equações do modelo. O CFD Module é munido de interfaces físicas específicas que permitem modelar a maioria dos aspectos do escoamento, incluindo descrições de escoamento compressível, não isotérmico, não Newtoniano, bifásico e em meios porosos – todas nos regimes de escoamento laminar e turbulento. O CFD Module pode ser usado como ferramenta padrão para simulações computacionais de dinâmica dos fluidos (CFD) ou junto com os outros módulos do COMSOL para simulações multifísicas onde o escoamento é importante.
A GUI do CFD Module garante total acesso a todas as etapas no processo de modelagem. Estas incluem as etapas a seguir:
Selecionar a descrição adequada do escoamento, por exemplo, escoamento monofásico ou bifásico, laminar ou turbulento, etc.
Criar ou importar a geometria do modelo
Definir as propriedades do fluido
Adicionar termos de fonte e sorvedouro ou editar as equações fundamentais do modelo de fluido, se necessário
Selecionar elementos de malha e controlar a densidade da malha em diferentes posições
Selecionar métodos de resolução e ajustá-los, se necessário.
Outras imagens:
Interfaces Físicas Adequadas para Qualquer Tipo de Escoamento
Ferramentas para definir as diferentes descrições para escoamento são reunidas e disponibilizadas em interfaces físicas fáceis de usar. Internamente, essas interfaces definem a conservação de momento, massa e equações de energia que descrevem o escoamento, considerando a contribuição dos acoplamentos multifísicos com outras físicas. Além disso, as interfaces formulam uma forma estabilizada dessas equações, que pode ser usada pelo COMSOL para criar a discretização espacial por elementos finitos e as diferenças finitas para derivadas de tempo para problemas em regime permanente ou transiente. As interfaces físicas adaptam as formulações estabilizadas à descrição selecionada e às funções das propriedades do fluido e sugerem configurações e parâmetros para os métodos de resolução para o tipo de escoamento descrito. São disponíveis interfaces físicas específicas para os tipos de escoamento a seguir:
Escoamento Monofásico: O CFD Module resolve múltiplas variações das equações de Navier-Stokes para modelar escoamentos em todos os regimes de velocidade. Isso inclui a modelagem de fluido à baixa velocidade, ou escoamento tipo "creeping" (escoamento de Stokes), escoamento laminar pouco compressível e escoamento turbulento. O escoamento turbulento é modelado usando as equações de Navier-Stokes baseadas em médias do número de Reynolds (RANS) e inclui os modelos de turbulência k-ε, k-ε de baixo Reynolds, k-ω, SST (Shear Stress Transport) e Spalart-Allmaras.

É possível manipular todas as variáveis nas equações de Navier-Stokes e os termos nos modelos de turbulência. Pode-se, por exemplo, incluir equações com base em variáveis do modelo de outras interfaces físicas acopladas. Há muitas outras ferramentas para ajudar no processo de resolução dos modelos de turbulência. Entre elas, estão ferramentas para especificar funções de parede e a geração de malha de camada, malhas híbridas e outras ferramentas para adaptar a densidade e o posicionamento da malha.
Escoamento Não Isotérmico: Por padrão, as forças de flutuação induzidas termicamente são consideradas nos escoamentos laminares e turbulentos quando acoplados à transferência de calor. O CFD Module inclui interfaces multifísicas prontas para escoamento não isotérmico e a transferência de calor conjugada. O módulo pode combinar acoplamentos multifísicos arbitrários para definir escoamentos pouco compressíveis, isto é, com números Mach abaixo de 0,3.
Escoamento Compressível: O CFD Module também é capaz de modelar fluidos compressíveis para números de Mach maiores que 0,3, onde variações na temperatura causadas por transferência de calor, trabalho de compressão ou trabalho realizado por forças de fricção resultam em efeitos de compressividade significativos, como choques, por exemplo. Os recursos de geração de malhas adaptativas do COMSOL Multiphysics ajudam bastante a solucionar ondas de choque e áreas de grande mudança no perfil de escoamento.
Escoamento Bifásico: Interfaces físicas e equações estão ao seu dispor para modelar escoamentos bifásicos. Quando é necessário rastrear as interfaces móveis que separam dois ou mais fluidos imiscíveis, o CFD Module usa os métodos Phase Field (Campo de Fase) e Level Set

O CFD Module também inclui interfaces físicas para modelos de escoamento bifásico dispersos para descrever escoamentos que contêm suspensões de muitas partículas, gotículas ou bolhas, pelos métodos de Bubbly Flow (Escoamento Borbulhante), Mixture Model e Euler-Euler Model. O último método lida com altas concentrações de bolhas que colidem frequentemente e contêm variações significativas quanto à velocidade relativa entre as fases. O Heat Transfer Module também inclui interfaces para modelar a condensação e o ar úmido, onde mudanças de fase são descritas usando funções degrau integradas no COMSOL Multiphysics.
Escoamento em Meios Porosos: O CFD Module, permite modelar o transporte de fluidos monofásicos e bifásicos em meios porosos usando a Lei de Darcy e a extensão de Brinkman à Lei de Darcy. A Lei de Darcy é adequada para meios porosos cujos poros são pequenos o suficiente para negligenciar os efeitos viscosos, de modo que o fluxo seja orientado por um diferencial de pressão, ao passo que as equações de Brinkman incluem termos que consideram os efeitos viscosos. Também há uma condição interna que permite modelar a interface entre o escoamento em canal livre e os meios porosos.
Máquinas Rotativas: As interfaces para Máquinas Rotativas incluem ferramentas de modelagem para descrever peças rotativas que mudam dinamicamente de geometria, como as pás de um misturador, ou de uma hélice, girando em um domínio de fluido. Há também a interface Frozen Rotor que aproxima a rotação incluindo termos adicionais nas equações de escoamento em vez de mudar a geometria durante a simulação. Usando bem menos recursos computacionais do que se resolvesse a rotação real, essa interface física adiciona forças centrífugas e forças de Coriolis à formulação de regime permanente de Navier-Stokes e oferece boas aproximações para modelar aplicações como turbinas, separadores centrífugos e misturadores. Uma interface para escoamento rotacional também está ao dispor para modelar escoamentos rotativos. Nessa interface física, uma componente de velocidade rotacional fora do plano é incluída em modelos axissimétricos produzindo um vetor de velocidade tridimensional definido em uma geometria 2D, o qual também diminui os requisitos computacionais em comparação à modelagem totalmente 3D.
Escoamento em Filme Fino: Uma interface física especializada é incluída no CFD Module para modelar o escoamento de líquidos ou gases confinados em camadas finas entre duas superfícies, ou sobre uma superfície, por exemplo, para modelar a lubrificação.
Escomanto Não Newtoniano: O CFD Module inclui os modelos de Carreau e da lei de potência, mas também permite definir equações personalizadas ou introduzir dados externos para descrever a viscosidade e a taxa de cisalhamento de polímeros e outros tipos de fluidos não Newtonianos. É possível, por exemplo, definir modelos viscoelásticos dessa maneira. Funções degrau são inclusas no COMSOL Multiphysics e podem ser usadas para modelar mudanças substanciais ou repentinas nas propriedades do fluido, por exemplo, para descrever fluidos de Bingham.
Escoamento Através de Telas Finas: A modelagem de processos que incluem placas perfuradas, grades e telas metálicas finas é facilitada usando o recurso Thin Screens. Este recurso inclui correlações para coeficientes de refração e resistência que consideram os efeitos do escoamento através de uma tela e antes e depois de uma tela para escoamentos laminares ou turbulentos.
Escoamento e Transferência de Calor: O CFD Module inclui a interface Conjugate Heat Transfer para descrever transferência de calor totalmente acoplada em sólidos e fluidos, incluindo escoamentos laminares e turbulentos. Por padrão, ela resolve o escoamento não isotérmico e pode ser acoplada a qualquer outra interface física que inclua temperatura, tal como interfaces para radiação entre superfícies no Heat Transfer Module, aquecimento por efeito Joule e calor de reações nas interfaces de Transporte de Espécies Químicas. Além disso, interfaces físicas para transferência de calor em meios porosos combinam a condução na matriz sólida com a condução e convecção na fase fluida, ao mesmo tempo em que levam em conta o caminho tortuoso tomado pelo fluido e a dispersão de calor que isso acarreta.
Escoamento Reagente: Uma interface especializada, que acopla escoamentos laminares e turbulentos ao transporte de espécies químicas em soluções diluídas e concentradas, está inclusa e é possível acoplá-la à interfaces que descrevem reações químicas no Chemical Reaction Engineering Module
Além das formulações inclusas, também é possível definir e digitar expressões, que são funções arbitrárias das variáveis modeladas, nos campos de edição para introduzir termos de fonte ou sorvedouro para descrever propriedades de materiais ou para definir condições de contorno. Por exemplo, pode-se definir propriedades físicas usando funções personalizadas para descrever a influência da composição, da temperatura, da taxa de cisalhamento ou de qualquer outra variável do modelo. Pode-se desejar definir condições de contorno e termos de fonte ou sorvedouro que sejam em função das variáveis modeladas ou que se acoplem a outras físicas. É possível fazer isso diretamente na GUI, sem a necessidade de introduzir as inconvenientes sub-rotinas do usuário. A possibilidade de definir equações arbitrárias das variáveis modeladas, como calcular a média nas seções transversais do domínio ou em volumes de controle do domínio, também permite a caracterização do escoamento usando diferentes representações dos números de Reynolds, Mach e Grashof.
Em um passo mais avançado para adicionar termos de fonte ou sorvedouro e definir propriedades físicas como funções, também é possível manipular as equações fundamentais nas interfaces físicas descritas previamente para modificar a descrição do escoamento e criar acoplamentos menos comuns para outras interfaces físicas.
Muitas das interfaces físicas também suportam descrições sofisticadas das condições de contorno. Além de especificar condições de contorno de deslizamento e sem deslizamento, também pode-se configurar paredes para simular condições de Paredes Deslizantes e Móveis, bem como paredes que estejam Vazando ou até mesmo Abertas, onde se pressupõe que o fluido assuma seu próprio contorno livre. Funções de parede e seus parâmetros de ajuste relevantes podem ser definidos para modelos turbulentos. Para entradas e saídas, uma velocidade ou perfil de velocidade pode ser configurado junto com condições de Pressão, Tensões ou Fluxo de Massa, bem como uma condição de contorno de Fluxo Periódico que conecta o fluxo de saída de um contorno à entrada de outro. Condições de contorno periódicas são úteis ao modelar uma célula unitária em uma geometria composta por um conjunto de células unitárias repetidas.
Plataforma Unificada para Simulações Multifísicas e Multidisciplinares
O escoamento é parte integrante de muitos processos e aplicações diferentes e deve ser entendido e otimizado geralmente no que diz respeito a como afeta outros processos. O resfriamento efetivo do disco rígido de um computador, a dispersão de energia dentro do filme de amortecimento de um acelerômetro e o transporte de espécies através das diferentes partes de um reator químico são exemplos onde o escoamento contribui para um processo descrito por outras físicas. Além disso, na realidade, o aquecimento que emana dos dispositivos eletrônicos afeta a densidade do fluido. A elasticidade do acelerômetro impõe uma oscilação ao escoamento e as reações mudam a composição química e, provavelmente, a pressão que provoca os escoamentos. Isso significa que também deve-se incluir estes efeitos para uma descrição totalmente precisa do processo como um todo.
O COMSOL Multiphysics e o CFD Module ajudam a descrever esses processos graças ao ótimo acoplamento de todas as físicas envolvidas e ao permitir o acesso livre às equações do modelo diretamente na GUI. Também está ao dispor a formulação de acoplamento bidirecional de interação fluido-estrutura (FSI). Esta permite modelar cenários onde o fluido deforma uma estrutura e onde a reação dessa estrutura à sua deformação, por sua vez, influencia no escoamento. Todas as interfaces físicas no CFD Module podem ser acopladas a qualquer um dos outros módulos do COMSOL para criar uma plataforma padrão para aplicações onde a dinâmica dos fluidos computacional precisa ser levada em conta.
A COMSOL também oferece módulos que modelam o escoamento de maneiras alternativas ao CFD Module, mas que ainda assim podem ser facilmente acoplados para usufruir dos benefícios de ambos. Um exemplo disso é o Pipe Flow Module, que modela escoamentos totalmente desenvolvidos em redes de tubulação 2D e 3D usando elementos de borda, com uma componente de velocidade tangencial média ao longo das bordas, para descrever as seções de tubo. Isso permite modelar o escoamento em uma rede de tubos conectada a tanques em um processo, mas evita criar a malha da seção transversal dos tubos na rede, o que resultaria em grandes malhas 3D. O COMSOL contém um recurso que permite o mapeamento perfeito de dados das bordas para superfícies e volumes, e vice-versa, para conectar redes de tubos a geometrias com malhas totalmente em 2D ou 3D. Assim, pode-se considerar as propriedades de dinâmica dos fluidos computacional de uma certa unidade dentro de toda uma rede de tubulação e ajustar as condições operacionais de ambas, uma em relação à outra.
Como todas as físicas são modeladas usando a mesma interface gráfica do usuário e o mesmo fluxo de trabalho padrão, os engenheiros de CFD podem se comunicar com facilidade com outros engenheiros que estejam analisando diferentes características do mesmo componente ou processo, como propriedades estruturais, elétricas ou químicas. Tudo que se precisa é enviar o arquivo, desativar as físicas que não estão sendo investigadas, adicionar mais uma ou duas interfaces físicas e continuar modelando. E, é claro, acoplar essas novas interfaces físicas à que descreve o escoamento a fim de obter uma simulação multifísica completa do componente ou processo.
Aproximando a Solução Final para CFD em Etapas
Simular computacionalmente a dinâmica dos fluidos em equipamentos ou processos é geralmente um fluxo de trabalho onde encontra-se uma solução final e precisa através de etapas. O CFD Module contém muitas ferramentas, recursos, configurações e interfaces diferentes para ajudar o usuário em todas as etapas do fluxo de trabalho.
O CAD Import Module ou um dos produtos LiveLink™ auxilia a trazer a geometria da peça, componente ou processo que será simulado de um software CAD de terceiros. Esses módulos permitem, na sequência, manipular a geometria para ajudar a simplificar pequenos detalhes e artefatos que podem não ser relevantes para o escoamento, mas que complicam a geração da malha para simulações CFD.
Uma vez que o projeto de CAD 3D está no CFD Module, pode-se não desejar dar início às simulações 3D imediatamente. O COMSOL Multiphysics suporta a habilidade de criar um espaço de trabalho para modelagem 2D a partir de geometrias 3D. Trabalhando com uma geometria 2D, tal como uma seção transversal representativa, será possível se familiarizar com vários parâmetros da simulação. Sem usar os vastos recursos computacionais que um modelo 3D exigiria, é possível:
Investigar o efeito que as propriedades do fluido têm sobre a simulação como um todo
Decidir qual é o modelo de turbulência adequado a usar
Determinar o posicionamento adequado da malha e da malha de camadas
Selecionar os métodos de resolução e configurações a usar
Estudar o efeito dos acoplamentos multifísicos sobre o escoamento
Estimar a precisão que se espera de um modelo 3D
Com um maior entendimento do sistema, realizar a simulação totalmente 3D usando o conhecimento e as definições otimizadas obtidos com o modelo 2D. Esse recurso também é especialmente útil para tratar projetos CAD 3D simétricos ou assimétricos, a modelagem 3D completa e diminuindo significativamente os requisitos computacionais.
Ferramentas para Flexibilizar a Geração de Malhas e Trazer Robustez à Resolução
A geração da malha é geralmente uma etapa crítica na modelagem computacional de dinâmica dos fluidos em dispositivos ou processos. A malha deve ser boa o bastante para proporcionar precisão, mas não fina demais de modo que consuma todos os recursos computacionais. O COMSOL Multiphysics oferece muitas ferramentas diferentes para garantir uma boa malha para simulações de escoamento. Isso inclui geração de malhas não estruturadas, estruturadas e por extrusão, o que permite flexibilidade por levar em conta as dimensões geométricas do domínio de modelagem, sua razão e o efeito nas direções do escoamento. O CFD Module também utiliza a geração de malha de camadas para inserir camadas de malha estruturadas ao longo de contornos, como paredes, e conectá-las a malhas estruturadas ou não estruturadas circundantes, para formar uma malha híbrida.
O CFD Module faz uso da maioria dos métodos de resolução linear, não linear, dependente do tempo e paramétrico encontrados no COMSOL Multiphysics. Isso inclui métodos de resolução diretos para resolver modelos 2D e pequenos modelos 3D, os quais têm boas capacidades para convergir facilmente, e métodos de resolução iterativos para modelos maiores ou mais complexos. Pré-condicionamento e métodos de resolução multigrid estão à disposição para trabalhar em conjunto com outros métodos de resolução para garantir soluções. Funcionalidades de resolução avançadas, como a inclusão de difusão perpendicular e ao longo das linhas de corrente, e os métodos de suavização estão à disposição e seus valores podem ser ajustados junto com a maioria das configurações dos métodos de resolução. O CFD Module também utiliza elementos de diferentes ordens na mesma simulação e pode aplicar elementos de menor ordem para resolver uma variável, como a pressão, e elementos de maior ordem para resolver as demais variáveis.
O esquema dos métodos de resolução também permite melhores aproximações dos valores iniciais para um processo de resolução. Isso inclui configurar esquemas de resolução que resolverão uma descrição de escoamento mais fácil, como o campo de escoamento laminar dentro de certo domínio de modelagem, e aplicarão essa resolução como o valor inicial para uma descrição de escoamento turbulento. Uma solução que usa a interface Frozen Rotor pode ser usada como valor inicial para uma simulação completa do domínio de modelagem rotativo, economizando recursos computacionais.
Extraia Dados Precisos e Pertinentes de Simulações CFD
O CFD Module calcula propriedades intrínsecas ao escoamento, como: padrões de escoamento; perdas de pressão; forças sobre objetos submetidos a escoamento, arraste e sustentação; distribuição de temperatura; e variações na composição fluida de um sistema. Ademais, é oferecido pós-processamento qualitativo envolvendo representações gráficas de superfície, linhas de fluxo, em faixas, em seta e de rastreamento de partículas qualitativo, além de animações. Dados de todos os parâmetros e variáveis nas equações fundamentais e termos adicionais são acessíveis para serem extraídos e representados graficamente em comparação a qualquer outro parâmetro ou variável. Isso inclui o pós-processamento de valores derivados, como coeficientes de arraste e sustentação. Incluindo e acoplando físicas do Particle Tracing Module na resolução das aplicações CFD, é possível levar em conta o efeito das partículas sobre o fluxo em si (Lagrange-Euler) e umas sobre as outras por meio de colisões e de seu próprio momento.
CFD Module
Product Features
Full Navier-Stokes equations formulations for laminar and turbulent flow
Reynolds-Averaged Navier-Stokes (RANS) equations for the modeling of turbulent flow
RANS interfaces such as the k-epsilon, low-Reynolds k-epsilon, k-omega, SST (Shear Stress Transport) and Spalart-Allmaras interfaces
Buoyancy terms in nonisothermal laminar and turbulent flow by default
Euler-Euler Model, Bubbly Flow, and Mixture Model methods for dispersed multiphase flows
Phase Field and Level Set interfaces for separated multiphase flows
Conduction and convection in gases and liquids
Flow in dense and sparse porous media through Darcy's Law and the Brinkman Equations
Physics interfaces for modeling Heat Transfer in Porous Media and Conjugate Heat Transfer
Compressible high Mach number flow using the Euler equations
Diffusion and convection of materials in dilute solutions with the specialized Reacting Flow interfaces
Tunable crosswind and isotropic diffusion stabilization methods for fluid flow, convective heat, and mass transport
Carreau and Power-Law models for modeling non-Newtonian fluids
Thin-film flow for lubrication and tribology in general
Variety of boundary conditions, such as flow through thin screens, periodic boundary conditions, and specification of laminar profiles at the inlet
Automatic boundary layer meshing and hybrid meshes where wall functions are defined
Built-in variables for computing the Reynolds, Prandtl, Nusselt, Rayleigh, and Grashof numbers
Functionality for formulating arbitrary expression of the modeled variable during postprocessing, including averaging over boundaries or domains, for example to evaluate lift and drag force coefficients
Particle tracing methods where particles can affect the flow (Lagrange-Euler)1
1Requires the Particle Tracing Module
Creating 2D Models from Cross Sections of 3D Geometries
COMSOL Multiphysics has a great feature for creating 2D models from cross sections of 3D geometries. 3D models can have long solution times and take up lots of computer memory. This feature has been added to the software so that 2D models can be created from 3D symmetric or axisymmetric models to solve much quicker. They can also be created to assist in parts of a 3D model to investigate modeling strategies, as well as certain results and parameters. This video shows the simple process of creating a Work Plane in a 3D model, adding a 2D model, and using the cross section created by the Work Plane as the 2D geometry. The same materials and physics are used to run the model in 2D and the results are compared with the results from the 3D model. After watching the video, you can try out this feature on your own models, or visit our model gallery to download the
Shell-and-Tube Heat Exchanger
model to follow along to.
CFD Module
Numerical Simulation-Based Topology Optimization Leads to Better Cooling of Electronic Components in Toyota Hybrid Vehicles
Toyota Research Institute of North America, MI, USA
The Toyota Research Institute in Ann Arbor drives cutting-edge research in energy efficiency, mobility infrastructure, and safety. Here, Ercan Dede and his team are designing heat sinks (or cold plates), which are affixed to fragile electrical systems and other applications in Toyota's hybrid vehicles. Their simulations simulate the cold ...
Modeling Optimizes a Piezoelectric Energy Harvester Used in Car Tires
Alexander Frey and Ingo Kuehne
Siemens Corporate Technology, Munich, Germany
Siemens is a technology company working with electronics and electrical engineering in industry, energy, and healthcare. Researchers at Siemens Corporate Technology are experimenting with an energy harvesting MEMS (Micro Electro-Mechanical System) generator. In collaboration with Continental AG, they are designing a MEMS device for use as a Tire ...
The Burning Need for Modeling
Gianluca Argentini
Riello Burners
Legnago, Italy
Riello Burners manufactures high-efficiency low maintenance burners for use in residential and commercial heating applications, as well as in industrial processes. Proper ventilation is crucial for a burner because it maintains appropriate air flow into the combustion head where the flame is located. When designing the fan for any burner, there ...
Silent Air Cooling: A New Approach to Thermal Management
Nels Jewell-Larsen,
Tessera Technologies, CA, USA
Removing heat from electronic devices is a necessity that up until now was achieved by rotary fans. Tessera, a company that delivers innovative miniaturization technologies and products for next-generation electronic devices, developed a replacement for rotary fans that can satisfy demanding space and noise constraints. They designed a silent air ...
A Smooth Optical Surface in Minutes
Anthony Beaucamp
Zeeko Ltd
Leicestershire, UK
Zeeko Ltd is a technology company that manufactures corrective polishing machines for optics and other surfaces. They are presently researching fluid jet polishing (FJP), which pumps a mixture of water and abrasive particles through a nozzle onto a work piece. Unfortunately, FJP tends to introduce waveforms on to the polished surfaces, which in ...
Cluster Simulation of Refrigeration Systems
Stephen Codyer & Mehdi Raessi
Department of Mechanical Engineering
UMass Dartmouth
Dartmouth, MA

Jessica Currie & Vladimir GoldsteinSunwell Technologies, Inc., Woodbridge
ON, Canada
Sunwell Technologies Inc. produces and distributes the slurry ice (Deepchill™) that is an environmentally-friendly way to refrigerate foods and other items in trucks and the like. They commissioned the Computational Multiphase Flows group at the University of Massachusetts, Dartmouth (UMass Dartmouth) to provide simulation support to the ...
The Science of Water Screening
Ehrich Shaw
Johnson Screens
New Brighton, MN
Johnson Screens® are the manufacturers of steel screens that impede debris from lakes and rivers from entering pipes and valves that will utilize the water. Their task is to provide application-specific screens that must be customized to the environment they are operating in. Often this means taking into account the characteristics of the debris ...
Sea Floor Energy Harvesting
Nagi Elabbasi, Brentan Alexander, and Stuart Brown

Veryst Engineering, Needham, MA, USA

Veryst Engineering has provided design solutions for a variety of industries in the field of energy harvesting. One of their current projects is working on ocean floor sensors, used in naval applications, environmental monitoring, earthquake monitoring, and oil exploration, which presently run on battery-power requiring expensive battery ...
Restoration of Lake Water Environments
Shuya Yoshioka
Ritsumeikan University
Shiga, Japan
Human activity steals oxygen from natural water sources such as lakes and this oxygen-deficient water often contains high levels of toxic substances such as metals and organic material. Thus the number of lakes that can be used as a source of water is reduced, straining the available resources and creating a need for water-treatment plants of ...
Numerical Simulation-Based Topology Optimization Leads to Better Cooling of Electronic Components in Toyota Hybrid Vehicles
Modeling Optimizes a Piezoelectric Energy Harvester Used in Car Tires
The Burning Need for Modeling
Silent Air Cooling: A New Approach to Thermal Management
A Smooth Optical Surface in Minutes
Cluster Simulation of Refrigeration Systems
The Science of Water Screening
Sea Floor Energy Harvesting
Restoration of Lake Water Environments
CFD Module
Heat Sink
This model is intended as a first introduction to simulations of fluid flow and conjugate heat transfer. It shows you how to: Draw an air box around a device in order to model convective cooling in this box. Set a total heat flux on a boundary using automatic area computation. Display results in an efficient way using selections in data sets.
Boiling Water
Boiling flow is an example of phase transition initiated by raising the temperature of a liquid above its saturation temperature. It is possible to accomplish this in many ways; in this example by applying an external heat flux to a solid surface in contact with the liquid. There are three distinct regimes that characterize boiling induced by ...
Droplet Breakup in a T-junction
Emulsions consist of small liquid droplets immersed in an immiscible liquid and widely occur in the production of food, cosmetics, fine chemicals, and pharmaceutical products. The quality of the product is typically dependent on the size of the droplets. Simulating these processes can help in optimizing these droplets as well as other process ...
Circulated Fluidized Bed
In the current model, a circulated fluidized bed is studied. The dispersed phase, consisting of solid spherical particles, is fluidized by air and transported upwards through a vertical riser. Upon reaching the outlet, the dispersed phase is reinjected through vertical slots at the bottom of the bed. The solid and fluid phases are modeled using ...
Displacement Ventilation of Air in a Room
In general, there are two classes of ventilation: mixing ventilation and displacement ventilation. In displacement ventilation, air enters a room at the floor level and displaces warmer air to achieve the desired temperature. Heating sources in the room can include running electronic devices, or inlet jets of warm air. A potential issue with the ...
Laminar Flow in a Baffled Stirred Mixer
This model exemplifies the use of the Rotating Machinery interface, which allows you to model moving rotating parts in, for example, stirred tanks, mixers, and pumps. The Rotating Machinery interface formulates the Navier-Stokes equations in a rotating coordinate system. Parts that are not rotated are expressed in the fixed material coordinate ...
Solar Panel in Periodic Flow
The coupling of fluid flow and structural mechanics is a challenging problem for several reasons. The fluid flow problem usually requires a specific kind of mesh that is not appropriate for structural mechanics. Additionally, one may want to include geometric features in the structural model that are not significant for the fluid flow ...
Separation Through Electrocoalescence
Applying an electric field across a suspension of immiscible liquids may stimulate droplets of the same phase to coalesce. The method known as electrocoalescence has important applications, for instance, in the separation of oil from water. To model electrocoalescence, you need to solve the Navier-Stokes equations, describing the fluid motion, ...
Inkjet Nozzle: Level Set
Inkjet printers are attractive tools for printing text and images because they combine low cost and high resolution with acceptable speed. Designers can vary several parameters to modify a printer's performance. Simulations can be useful to improve the understanding of the fluid flow and to predict the optimal design of an inkjet for a specific ...
Syngas Combustion in a Round-Jet Burner
The model simulates non-premixed turbulent combustion of syngas (synthesis gas) in a simple round-jet burner. Syngas is a gas mixture, primarily composed of hydrogen, carbon monoxide and carbon dioxide. The name syngas relates to its use in creating synthetic natural gas. In the model, syngas is fed from a pipe into an open region with a slow ...
Heat Sink
Boiling Water
Droplet Breakup in a T-junction
Circulated Fluidized Bed
Displacement Ventilation of Air in a Room
Laminar Flow in a Baffled Stirred Mixer
Solar Panel in Periodic Flow
Separation Through Electrocoalescence
Inkjet Nozzle: Level Set
Syngas Combustion in a Round-Jet Burner