Heat Transfer Module
Para a Modelagem Geral de Transferência de Calor em Sólidos e Fluidos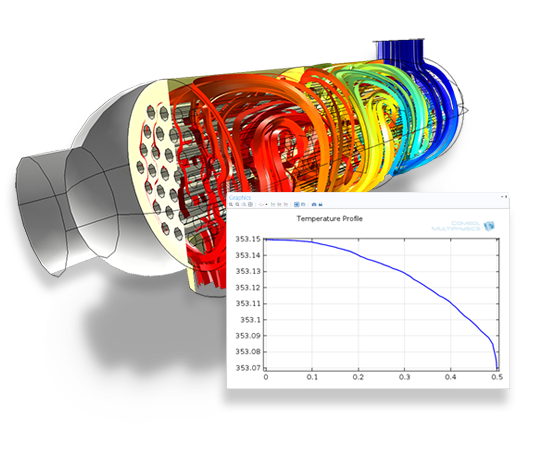 Perfil de temperatura no lado da casca e ao longo de um dos tubos em um trocador de calor.
A Geração, Absorção e Transferência de Calor
O Heat Transfer Module ajuda a investigar os efeitos de dispositivos, componentes ou processos de aquecimento e resfriamento. O módulo oferece ferramentas de simulação para estudar mecanismos de transferência de calor (condução, convecção e radiação) frequentemente em conjunto com outras físicas, como mecânica estrutural, dinâmica dos fluidos, eletromagnetismo e reações químicas. Nesse contexto, o Heat Transfer Module atua como uma plataforma para todas as indústrias e aplicações possíveis onde a geração, absorção ou transferência de calor ou energia sejam o foco do processo estudado, ou contribuam significativamente para o estudo.
Dados Termodinâmicos e de Materiais
O Heat Transfer Module vem equipado com um banco de dados de materiais interno que contém as propriedades de diversos fluidos e gases comuns, o que inclui muitos dos dados termodinâmicos necessários para uma análise precisa. Eles incluem condutividade térmica, capacidade térmica e densidade. A Material Library também é uma fonte para propriedades de material, com os dados ou relações algébricas de mais de 2.500 materiais sólidos, onde muitas dessas propriedades, como o módulo de Young e a condutividade elétrica, dependem da temperatura. O Heat Transfer Module também suporta a importação de dados termodinâmicos ou de outros dados de materiais a partir do Excel® e do MATLAB® e a conexão com bancos de dados de termodinâmica externos através do padrão de interface CAPE-OPEN.
Outras imagens:
Um Fluxo de Trabalho Unificado
O Heat Transfer Module é excepcional para o mundo da modelagem porque é uma ferramenta dedicada para simular efeitos térmicos em seus processos de fabricação e projetos de produto. A COMSOL adota uma abordagem unificada tanto para a definição dos modelos quanto para a operação de suas simulações de transferência de calor e de todos os outros fenômenos físicos envolvidos em suas aplicações. Você ganha, portanto, uma ferramenta padrão para se comunicar com outros engenheiros e departamentos de engenharia que analisam fenômenos diferentes dos seus. Independentemente de em quais físicas você ou seus colegas estão trabalhando dentro de uma aplicação específica, seu fluxo de trabalho é uniforme e direto, e ocorre de acordo com o seguinte:
Importar ou desenhar a geometria do dispositivo ou sistema em questão
Selecionar dados ou relações de materiais a partir dos mesmos arquivos usando propriedades constantes ou que dependem da temperatura
Decidir a melhor descrição da transferência de calor de seu sistema a partir de uma gama de interfaces sob medida que podem ou não depender de outras físicas acopladas a seu sistema
Incluir quaisquer outros efeitos físicos acoplados aos efeitos da transferência de calor
Definir condições e restrições nos contornos de seu sistema
Criar a malha de seu sistema e, em seguida, usar essa malha ou malhas derivadas desta em diferentes simulações
Executar os processos de resolução, com um método de resolução e confgurações adequados para a análise sendo realizada
Processar e visualizar seus resultados e apresentá-los nos mesmos gráficos e figuras ainda que eles sejam de simulações diferentes
Plataforma Unificada Para Simular Efeitos Térmicos Sobre processos de Fabricação e Projetos de Produto
Junto com o COMSOL Multiphysics e a numerosa quantidade de módulos complementares, a COMSOL oferece uma ferramenta unificada para todas as facetas de seus processos e projetos, independentemente dos fenômenos físicos que esteja estudando. Você pode modelar o aquecimento por efeito Joule dos dispositivos em seu sistema um dia, modelar o resfriamento destes passando ar através de seu sistema no outro e modelar as tensões térmicas a que seus dispositivos estão sujeitos no dia seguinte a este. Ou então pode modelar todos os efeitos de uma só vez.
A transferência de calor é um efeito físico importante, que é, na maioria das vezes, levado em conta junto com outros efeitos físicos. Campos de temperatura geram tensões térmicas, ao passo que campos eletromagnéticos criam aquecimento resistivo, por indução, por micro-ondas e por radiofrequência. O escoamento sobre diferentes componentes e peças é essencial para resfriá-los, ao passo que variações na temperatura têm um impacto gigantesco sobre as propriedades materiais e seu comportamento físico quando eles estão sendo processados termicamente, como por fundição ou soldagem. O Heat Transfer Module inclui diversas interfaces do usuário para a fácil modelagem da transferência de calor acoplada a outros fenômenos e pode ser integrado a qualquer um dos outros módulos da Linha de Produtos COMSOL®.
Os Mecanismos da Transferência de Calor
Essencial para o Heat Transfer Module é a possibilidade de realizar computações referentes à conservação de calor, ou balanços de energia, onde vários fenômenos, como perdas mecânicas, calores latentes, aquecimento por efeito de Joule ou calor de reação, estão disponíveis. O Heat Transfer Module inclui interfaces prontas, conhecidas como interfaces físicas, configuradas para receber entradas de modelo pela interface gráfica do usuário (GUI) e para usar essas entradas para formular seus balanços de energia. Como ocorre com todas as interfaces físicas na Linha de Produtos COMSOL, você pode manipular as equações para proporcionar flexibilidade para modificar mecanismos de transferência, definir fontes de calor específicas ou acoplar outras físicas.
Condução
O Heat Transfer Module inclui transferência de calor por condução em sólidos e fluidos, ou uma combinação de ambos, e proporciona acesso irrestrito à condutividade térmica para definir a dependência de variáveis, geralmente em função da temperatura em si. A computação automática de coordenadas curvilíneas em geometrias arbitrárias, combinada com a capacidade de definir propriedades de material anisotrópicas, proporciona representações altamente fidedignas dos efeitos térmicos em estruturas anisotrópicas, como materiais compostos.
Radiação
É oferecido suporte para modelar a radiação para diversos cenários no Heat Transfer Module, o que inclui métodos de resolução especializados para modelar o fenômeno e acoplá-lo à convecção e à condução. O Heat Transfer Module oferece ferramentas para modelar a radiação da superfície para o ambiente, do ambiente para a superfície e de superfície para superfície em meios transparentes, opacos e participantes.
O módulo usa o método da radiosidade para modelar a radiação de superfície para superfície e leva em conta propriedades de superfície que dependem do comprimento de onda onde você pode considerar simultaneamente até cinco bandas espectrais no mesmo modelo. Isso é apropriado para modelar a radiação solar, onde a absorvidade da superfície para comprimentos de onda curtos (banda espectral solar) pode diferir da emissividade da superfície para comprimentos de onda mais longos (banda espectral ambiente). Além disso, é possível definir propriedades de transparência para cada banda espectral. O Heat Transfer Module também modela a transferência de calor por radiação em meios participantes, o que leva em conta a absorção, a emissão e o espalhamento da radiação de calor nos referidos meios.
Convecção
A presença de fluidos em seus sistemas introduz invariavelmente convecção a suas aplicações de transferência de calor e contribuições de energia, através da atuação da pressão e de efeitos viscosos. O Heat Transfer Module suporta facilmente esses processos e leva em conta tanto a convecção forçada quanto a convecção livre ou natural. Ele inclui uma interface física específica para transferência de calor conjugada, onde materiais sólidos e fluidos são moldados no mesmo sistema. Para levar em conta o escoamento, o Heat Transfer Module contém interfaces físicas para modelar o escoamento laminar e o escoamento turbulento usando modelos de turbulência para altos números de Reynolds e modelo k-ε para baixos números de Reynolds. Em todos os casos de escoamento, os efeitos de flutuação natural que ocorrem devido a diferenças na temperatura são respeitados assumindo-se o escoamento não isotérmico. A integração de seus modelos de transferência de calor com o CFD Module permite outras simulações de escoamento, incluindo diferentes modelos de turbulência, escoamento em meios porosos e escoamento bifásico.
Além disso, o Heat Transfer Module inclui recursos para simplificar a modelagem da convecção quando a modelagem completa da dinâmica de fluidos não proporcionar precisão extra ou for computacionalmente inviável. Os recursos estão à disposição através de uma biblioteca integrada de coeficientes de transferência de calor e podem ser usados para simular a transferência de calor entre os meios adjacentes e seus contornos através da convecção forçada ou natural. O módulo também contém modelos para diferentes tipos de configurações geométricas, como chaminés ou placas (verticais, inclinadas ou horizontais) e diferentes fluidos externos (ar, água e óleo).
Transferência de Calor em Meios Porosos
Embora os conceitos de transferência de calor para escoamentos laminares e turbulentos em meios livres sejam relativamente familiares, o Heat Transfer Module também possui interfaces robustas para modelar a transferência de calor em meios porosos, considerando a condução e a convecção, nas fases sólidas e nos poros abertos da matriz porosa. Pode-se selecionar diferentes modelos de média para definir propriedades de transferência de calor eficazes que são automaticamente calculadas a partir das respectivas propriedades dos materiais sólidos e fluidos. Pode-se também acessar um recurso predefinido para a dispersão de calor em meios porosos causada pela via tortuosa percorrida pelos fluidos através dos poros.
Aquecimento biológico
Uma interface física para a equação biotérmica é incluída no Heat Transfer Module. A interface Bioheat Equation é a ferramenta perfeita para simular efeitos térmicos no tecido humano e em outros sistemas biológicos, seja através do aquecimento por micro-ondas, do aquecimento resistivo, do aquecimento por reação química ou do aquecimento radiativo. Como sempre no ambiente COMSOL, mudanças na temperatura podem ser facilmente canalizadas de volta às propriedades de material de outras físicas, como propriedades elétricas no caso de uma simulação multifísica fortemente acoplada. O bioaquecimento pode ser combinado a uma variedade de fenômenos de mudança de fase, incluindo a necrose de tecidos.
Mudança de fase
A mudança de fase é uma propriedade descontínua na análise da transferência de calor. Ela pode introduzir transformações difíceis de prever como a interface geométrica entre duas fases, ou mudanças repentinas em propriedades de material, como a condutividade, a capacidade térmica ou o comportamento do escoamento, que podem variar em algumas ordens de grandeza entre as fases sólida, líquida e gasosa do material. A mudança de fase também introduz calores latentes, o que predomina em muitos balanços de calor. Graças a uma variedade de diferentes recursos e interfaces do usuário, o COMSOL Multiphysics e o Heat Transfer Module são capazes de levar em conta essas perturbações, incluindo a possibilidade de modelar mudanças de volume usando malhas móveis. Também é suportada a definição automática de propriedades termodinâmicas para levar em conta mudanças repentinas em propriedades materiais e ainda assim permitir a continuidade através do controle do intervalo entre mudanças de fase.
Resistência Térmica de Contato
Quando dois objetos sólidos estão conectados um ao outro, a resistência à transferência de calor geralmente se dá em função do quanto eles estão pressionados um contra o outro e de suas respectivas irregularidades de superfície. A irregularidade cria pequenas lacunas entre as superfícies, o que inibe a transferência de calor, ao passo que pressionar essas superfícies diminui o tamanho das lacunas. No Heat Transfer Module, são incluídas interfaces físicas para simular o coeficiente de condução de calor do contato, que depende da tensão aplicada, da condutividade específica na lacuna e que também leva em conta a contribuição da radiação de superfície para superfície entre superfícies separadas por lacunas pequenas. A integração de seus modelos de transferência de calor com o Structural Mechanics Module possibilita o acoplamento direto entre os aspectos térmicos e mecânicos do contato, incluindo a expansão térmica.
Camadas Finas e Cascas
Seus dispositivos ou processos geralmente serão compostos por materiais ou domínios geometricamente muito menores do que o restante do sistema. Exemplos disso incluem finas camadas de cobre em placas de circuito impresso, a parede de um vaso de pressão ou camadas isolantes finas. Ferramentas de modelagem especializadas disponíveis no Heat Transfer Module simulam essas características e economizam recursos computacionais. Cascas altamente condutoras são usadas em situações onde o gradiente de transferência de calor é significativo nas direções tangenciais de uma camada ou casca, mas não ao longo de sua espessura, evitando assim a necessidade de criar malha sobre a largura dessa camada ou casca. No entanto, elas acoplam os resultados de suas soluções às entidades 3D, às quais a camada ou casca se conecta. Elas poderiam ser uma parede fina entre dois domínios maiores, um domínio e seus arredores ou uma camada embutida na superfície de outro sólido. À semelhança, interfaces físicas para camadas finas termicamente resistivas oferecem uma maneira fácil de representar materiais mal condutores.
Heat Transfer Module
Product Features
Heat transfer by conduction including friction heating and thermal stresses and solid deformation
Conduction and convection in gases and liquids
Support for natural convection and nonisothermal flow
Conjugate heat transfer
Heat transfer in porous media through conduction in the solid phase and convection and conduction in the pores
Heat dispersion in porous media
Benchmarked bioheat model including tabulated data for blood perfusion rates and metabolic heat sources
Heat transfer in thin shells and highly-conductive layers
k-epsilon and low Reynold's k-epsilon turbulence models including for nonisothermal flow
Heat transfer from or to opaque surfaces through surface-to-ambient and surface-to-surface radiation
The emission, absorption and scattering of radiation in participating (or semitransparent) media
Resistive or Joule heating
Support for phase change including latent heats
Anisotropic conductivity coefficients and their computation on curvilinear coordinate systems
Full access to all postprocessing variables
Streamline, crosswind and isotropic diffusion stabilization methods for fluid flow, convective heat transport and heat sources
Interfaces for modeling moist air including a condensation detection indicator
Thermal contact modeling between surfaces through constriction conductance (Cooper-Mikic-Yovanovich and Mikic Elastic Correlation), gap conductance, and radiative conductance
Built-in variables for computing the Reynolds, Prandtl, Nusselt, Rayleigh, and Grashof numbers
Built-in relations to describe the heat transfer coefficients for vertical and inclined walls, and horizontal and parallel plates and tubes
Turbulent conductivity computed using the Kays-Crawford turbulence model
---
Application Areas
Arc welding
Bioheat treatment and thermal therapy
Casting and thermal processing
Disc brakes
Electronic cooling
Food processing, cooking, and sterilization
Friction stir welding
Furnace and burner design
Heat exchangers and cooling flanges
Laser welding and laser heating
Material heat treatment
Conjugate heat transfer
Drying and freeze drying
Heat transfer in porous media
Resistive and induction heating
Solidification
Energy efficiency in building and constructions
Power electronics and electronic cooling
Thermovoltaic cells
Thermal load
Shell and Tube Heat Exchanger Model Tutorial
This video shows how to build a working model of a cross-flow, one pass,
shell and tube heat exchanger
for the purpose of analyzing the heat transfer coefficient of the design as well as the tube and shell side pressure drops. In this model, two separate fluids at different temperature pass through the heat exchanger, flowing in opposite directions. In the shell of the heat exchanger, air enters at a velocity of 1m/s and a temperature of 5°C. Water enters the tube side with a velocity of 0.1 m/s and a temperature of 80°C. A k-epsilon turbulence model is used to analyze both the air and water flow profiles. The separating conducting material is assumed to be structural steel. The solution is checked for accuracy by analyzing the upside wall lift-off, which indicates that the model is accurate enough for the purpose of our analysis.
Heat Transfer Module
Numerical Simulation-Based Topology Optimization Leads to Better Cooling of Electronic Components in Toyota Hybrid Vehicles
Toyota Research Institute of North America, MI, USA
The Toyota Research Institute in Ann Arbor drives cutting-edge research in energy efficiency, mobility infrastructure, and safety. Here, Ercan Dede and his team are designing heat sinks (or cold plates), which are affixed to fragile electrical systems and other applications in Toyota's hybrid vehicles. Their simulations simulate the cold ...
Switching Made Easy
Matthias Richwin,
Leopold Kostal GmbH,
Dortmund, Germany
Modern cars offer a wide range of complex functionality that comes with several design challenges. This story discusses some of the necessary updates to a roof module in a premium car and the charging system of an electric car. The roof module of a particular model houses several components. 90% of the generated heat goes into its printed circuit ...
Keeping LEDs Cool Gets More Manageable Through Simulation
Aulis Tuominen and Mika Maaspuro
University of Turku
Turku, Finland

Toni Lopez
Philips Research
Eindhoven, The Netherlands

Sami Yllikäinen
Hella Lighting Finland Oy
Salo, Finland

Raimo ...
Light-emitting diodes (LEDs) offer many benefits over incandescent lighting, such as long life spans and high luminous efficiency, and they are environmentally friendly. One of the drawbacks, however, is that LEDs need to operate at the lowest possible temperatures and this must be carefully regulated. Researchers at Business and Innovation ...
Multiphysics Software, a Versatile, Cost-Effective R&D Tool at Sharp
Chris Brown
Sharp Laboratories of Europe, UK

There are several kinds of technology that designers at Sharp Laboratories of Europe work to create. From LED lighting, displays, and microfluidic lab-on-a-chip technology, to complex energy systems used in various devices, Sharp needed a new approach to finding the best designs. COMSOL Multiphysics and its add-on products provided the versatility ...
Conjugate Heat Transfer
Luke T. Gritter, Jeffrey S. Crompton, Sergei Yushanov, and Kyle C. Koppenhoefer
AltaSim Technologies
Columbus, OH
USA
This is an application brief describing the concept of Conjugate Heat Transfer, which is important in many industrial processes, such as quenching. In this brief, they simulate the heat transfer with and without phase transformation to analyze the rate of heat dissipation with respect to the flow conditions of the coolant media. The fluid flow ...
Multiphysics Simulation Helps Miele to Optimize Induction Stove Designs
Christian Schröder
mieletec FH Bielefeld
Germany

Holger Ernst
Miele
Germany
The induction stove was designed to meet a consumer need for better precision and speed than traditional stoves. Designers were tasked with improving the energy efficiency of the induction coils-stovepot interaction considering both the thermal and electromagnetics of the system. Miele, a world leader in domestic appliances and commercial ...
Battery Simulation Propels Electric Cars in China
Dr. Songrui Wang

Tianjin Institute of Power Sources, Tianjin, China
Dr. Songrui Wang is a researcher at The Tianjin Institute of Power Sources, involved in battery testing and evaluation for design recommendations on safety. She analyzes the risk of potential fire hazards associated with lithium ion batteries, which are fast becoming the most popular sort of battery for vehicles, mobile devices, and many other ...
Understanding the Origin of Uncertainty in Thermometer Calibration
Jonathan Pearce
National Physical Laboratory
UK
Thermometers have widespread application and like any measurement device, they must be calibrated. Many do this with the International Temperature Scale of 1990 (ITS-90), which is a platinum resistance thermometer that calibrates using a fixed point cell, which is a container with a well running through its center for insertion of the thermometer. ...
Around the Clock Solar Power
ENEL, Rome, Italy
Italian utility ENEL and the Italian National Agency for New Technologies joined together to develop a new kind of Concentrating Solar Power (CSP), using Parabolic Trough CSP to generate electricity during sunny hours as well as under overcast conditions or at night. This new type of CSP plant depends on molten salt as a medium for storing heat in ...
Simulation-Based Engineering Fosters Innovation and Invention
Ozgur Yildirim and Zihong Guo
Intellectual Ventures
Bellevue, WA
Simulation-based engineering is the key to shortening time to market for innovations. Intellectual Ventures, in Bellevue, WA, is reaping the benefits of using COMSOL Multiphysics to accelerate their workflow from design study to prototype, and then on to their customers as inventions through various partnerships and licensing programs. Projects ...
Multiphysics Analysis of a Burning Candle
Luke T. Gritter, Sergei Yushanov, Jeffrey S. Crompton, and Kyle C. Koppenhoefer

AltaSim Technologies, Columbus, Ohio
Using COMSOL Multiphysics, AltaSim Technologies were able to predict the temperature distribution and flow pattern of a burning flame during steady state candle burning. In a burning candle, local temperatures in the flame exceed 1400 °C. The heat transfer would include radiation, conduction, and convection components while the low melting ...
When it's Impossible to Take Actual Measurements, Simulations Provide the Answers
Simon Chiartano,
Terres Réfractaires du Boulonnais (TRB), France
To contain splashes and provide protection at plants where metal is fabricated, blast furnace runners need a roof made of cast iron and concrete. Terres Réfractaires Du Boulonnais, a manufacturing company in France, has hundreds of blast furnaces with a short functional lifespan, so engineers need to design roof runners as economically as ...
COMSOL Assists Master Chef in Winning International Competition
Dagbjorn Skipnes

Nofima Norconserv AS,
Stavanger, Norway

Nofima is a research group majority owned by the Ministry of Fisheries that performs research and development in aquaculture, fisheries, and the food industry. Nofima collaborated with the Norwegian Centres of Expertise – Culinology and Chef Gunnar Hvarnes to promote halibut through a cooking competition and provided research to ensure a new ...
Cluster Simulation of Refrigeration Systems
Stephen Codyer & Mehdi Raessi
Department of Mechanical Engineering
UMass Dartmouth
Dartmouth, MA

Jessica Currie & Vladimir GoldsteinSunwell Technologies, Inc., Woodbridge
ON, Canada
Sunwell Technologies Inc. produces and distributes the slurry ice (Deepchill™) that is an environmentally-friendly way to refrigerate foods and other items in trucks and the like. They commissioned the Computational Multiphase Flows group at the University of Massachusetts, Dartmouth (UMass Dartmouth) to provide simulation support to the ...
Optimization Slashes Energy Consumption in Silicon-Based MEMS CO2 Detectors
Serge Gidon

CEA, Leti, Minatec, Grenoble, France

CEA-MINATEC is an international center for micro and nano-technologies which is funded by CEA, a French government-funded technological research organization. One of their current projects is developing silicon-based MEMS CO2 sensors that employ optical detection for monitoring adequate building ventilation. For the sensor to function, a filament ...
Numerical Simulation-Based Topology Optimization Leads to Better Cooling of Electronic Components in Toyota Hybrid Vehicles
Switching Made Easy
Keeping LEDs Cool Gets More Manageable Through Simulation
Multiphysics Software, a Versatile, Cost-Effective R&D Tool at Sharp
Conjugate Heat Transfer
Multiphysics Simulation Helps Miele to Optimize Induction Stove Designs
Battery Simulation Propels Electric Cars in China
Understanding the Origin of Uncertainty in Thermometer Calibration
Around the Clock Solar Power
Simulation-Based Engineering Fosters Innovation and Invention
Multiphysics Analysis of a Burning Candle
When it's Impossible to Take Actual Measurements, Simulations Provide the Answers
COMSOL Assists Master Chef in Winning International Competition
Cluster Simulation of Refrigeration Systems
Optimization Slashes Energy Consumption in Silicon-Based MEMS CO2 Detectors
Heat Transfer Module
Heat Sink
This model is intended as a first introduction to simulations of fluid flow and conjugate heat transfer. It shows you how to: Draw an air box around a device in order to model convective cooling in this box. Set a total heat flux on a boundary using automatic area computation. Display results in an efficient way using selections in data sets.
Absorbed Radiation (SAR) in the Human Brain
Scientists use the SAR (specific absorption rate) to determine the amount of radiation that human tissue absorbs. This measurement is especially important for mobile telephones, which radiate close to the brain. The model studies how a human head absorbs a radiated wave from an antenna and the temperature increase that the absorbed radiation ...
Focused Ultrasound Induced Heating in Tissue Phantom
This model example shows how to model tissue heating induced by focused ultrasound. First, the stationary acoustic field in the water and the tissue are modeled to obtain the acoustic intensity distribution in the tissue. The absorbed acoustic energy is then calculated and used as the heat source for a Bioheat Transfer physics in the tissue ...
Phase Change
This example demonstrates how to model a phase change and predict its impact on a heat transfer analysis. When a material changes phase, for instance from solid to liquid, energy is added to the solid. Instead of creating a temperature rise, the energy alters the material's molecular structure. Equations for the latent heat of phase changes ...
Thermal Modeling of a Cylindrical Li-ion Battery in 3D
This example simulates the heat profile in an air-cooled cylindrical battery in 3d. The battery is placed in a matrix in a battery pack. The thermal model is coupled to a 1d-battery model that is used to generate a heat source in the active battery material. The model requires the Batteries & Fuel Cells Module and the Heat Transfer Module
Laser Heating of a Silicon Wafer
A silicon wafer is heated up by a laser that moves radially in and out over time. In addition, the wafer itself is rotated on its stage. The incident heat flux from the laser is modeled as a spatially distributed heat source on the surface. The transient thermal response of the wafer is shown. The peak, average, and minimum temperature during the ...
Forced and Natural Convection Cooling of Circuit Boards
The suite of models examine the air cooling of circuit boards populated with multiple integrated circuits (ICs), which act as heat sources. Two possible cooling scenarios are depicted: vertically aligned boards using natural convection, and horizontal boards with forced convection (fan cooling). In this case, contributions caused by the induced ...
Tin Melting Front
This example demonstrates how to model phase transition by a moving boundary interface according to the Stefan problem. A square cavity containing both solid and liquid tin is submitted to a temperature difference between left and right boundaries. Fluid and solid parts are solved in separate domains sharing a moving melting front. The position ...
Heating Circuit
Small heating circuits find use in many applications. For example, in manufacturing processes they heat up reactive fluids. The device used consists of an electrically resistive layer deposited on a glass plate. The layer causes Joule heating when a voltage is applied to the circuit. The layer's properties determine the amount of heat ...
Liquid Cooled Lithium Ion Battery Pack
This model simulates a temperature profile in a number of cells and cooling fins in a liquid-cooled battery pack. The model solves in 3D and for an operational point during a load cycle. A full 1D electrochemical model for the lithium battery calculates the average heat source.
Heat Sink
Absorbed Radiation (SAR) in the Human Brain
Focused Ultrasound Induced Heating in Tissue Phantom
Phase Change
Thermal Modeling of a Cylindrical Li-ion Battery in 3D
Laser Heating of a Silicon Wafer
Forced and Natural Convection Cooling of Circuit Boards
Tin Melting Front
Heating Circuit
Liquid Cooled Lithium Ion Battery Pack