Structural Mechanics Module
Structural Mechanics Module
Para Realização de Análises de Mecânica Estrutural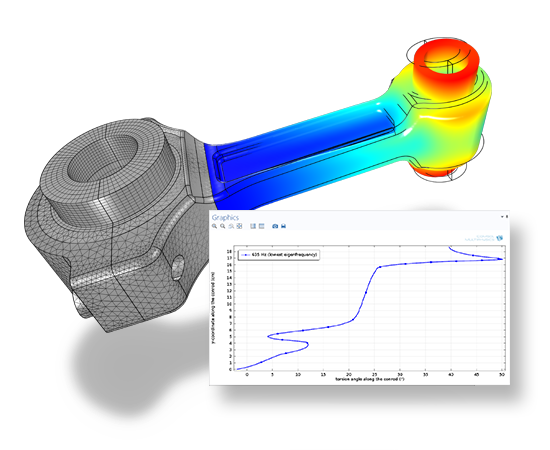 Análise modal de uma biela ilustrando o ângulo de torção ao longo da biela na menor frequência natural.
Análise estrutural estática, transitória e no domínio da frequência
O Structural Mechanics Module é dedicado à análise de estruturas mecânicas sujeitas a cargas estáticas ou dinâmicas. Pode-se usá-lo para uma ampla gama de tipos de análise, incluindo, estacionária, transiente, modal, paramétrica, quasiestática, de resposta em frequência, de flambagem e pré-tensionamento.
Módulos Complementares Expandem e Complementam as Análises Estruturais
O Structural Mechanics Module proporciona interfaces de usuário para análise em sistemas de coordenada em 2D, 2D axissimétrico e 3D para sólidos, cascas (3D), placas (2D), treliças (2D, 3D), membranas (2D axissimétrico, 3D) e vigas (2D, 3D). Essas permitem a análise de grandes deformações com não linearidade geométrica, contato mecânico, deformação térmica, materiais piezelétricos e interação fluido-estrutura (FSI). Para fazer uma análise de materiais não lineares, há dois produtos complementares disponíveis: o Nonlinear Structural Materials Module e o Geomechanics Module. Para avaliação da vida de fadiga, pode-se utilizar o complemento Fatigue Module, ao passo que, se deseja-se modelar a dinâmica de corpos flexíveis e rígidos, o complemento Multibody Dynamics Module é o correto. O Structural Mechanics Module também trabalha em conjunto com o COMSOL Multiphysics e os outros módulos de aplicação específica para acoplar análise estrutural a uma ampla gama de fenômenos multifísicos, inclusive a interação de estruturas mecânicas com campos eletromagnéticos, escoamento e reações químicas.
Outras imagens:
Modelos de Material
Os modelos que constituem o Structural Mechanics Module incluem modelos de materiais elásticos e viscoelásticos lineares, bem como materiais ortotrópicos e materiais com amortecimento. O conjunto de modelos de materiais incluído pode ser expandido adicionando-se o Nonlinear Structural Materials Module e o Geomechanics Module, que permitem a análise de grandes deformações plásticas, materiais hiperelásticos, plasticidade, fluência, viscoplasticidade, rochas, concreto e solo. Há grande flexibilidade para se introduzir materiais definidos pelo usuário, que é onde as amigáveis interfaces de usuário para equações do COMSOL entram em jogo. Para a grande maioria dos casos, a abordagem tradicional usando-se sub-rotinas do usuário pode ser substituída simplesmente pela digitação das equações constitutivas diretamente na interface gráfica, na forma expressões matemáticas nas variáveis de campo, invariantes de tensão e deformação, e quantidades derivadas. O módulo de Young, por exemplo, não precisa ser uma constante, pode ser uma função de qualquer variável de campo e seus derivados. As propriedades dos materiais podem variar no espaço ou no tempo, ou ser descritas usando expressões numéricas. complexas.
Cargas, Restrições e Ferramentas de Modelagem Especializadas de Alto Desempenho
Uma grande variedade de cargas e restrições é disponibilizada. Estão inclusas força total, cargas de pressão, cargas seguidoras, molas e amortecedores, massa adicionada, deslocamento prescrito, velocidade e aceleração. Para modelar peças elásticas finas, pode-se usar a interface especial Thin Elastic Layer. Além disso, as condições especiais Domínio Rígido e Contorno Rígido são disponibilizadas para misturar estruturas rígidas e flexíveis com mais recursos oferecidos pelo Multibody Dynamics Module. Ao modelar uma estrutura menor embutida, ou situada no topo de um grande substrato de material elástico, uma propriedade de designar como domínio de elemento infinito é disponibilizada. Essa simula a absorção de tensão que decai lentamente e permite simular um domínio menor truncado sem perda de precisão, ao mesmo tempo em que permite simulações altamente eficientes da estrutura maior.
Mecânica dos Sólidos
As interfaces Mecânica de sólidos do Structural Mechanics Module definem as quantidades e características para análise da tensão e mecânica lineares e não lineares em geral, resolvendo os deslocamentos. O material elástico linear é o modelo de material padrão. Outros modelos de materiais são modelos de materiais hiperelásticos (requer o Nonlinear Structural Materials Module) e viscoelásticos lineares. Além disso, o modelo de material elástico pode ser incrementado com recursos de expansão térmica, amortecimento, e tensão e deformação iniciais. Deformações inelásticas em geral podem ser facilmente definidas inserindo-as como deformações iniciais adicionais, inclusive, podem ser em função de quaisquer outros campos da física desde eletromagnetismo até escoamento de fluídos. A descrição de materiais elásticos no módulo inclui materiais isotrópicos, ortotrópicos e totalmente anisotrópicos. Cada coeficiente de material pode ser descrito por uma constante, variáveis, tabelas e expressões compostas e não lineares que podem variar no espaço e no tempo. O COMSOL Multiphysics tem a capacidade de interpretar toda e qualquer expressão, o que permite permanecer no ambiente COMSOL Desktop® para tarefas de modelagem avançadas, sem recorrer à programação.
Grandes Deformações e Contato Mecânico
O Structural Mechanics Module permite modelar grande deformação com cargas geométricas não lineares e seguidoras. As cargas podem ser distribuídas e também podem depender de outras físicas, como forças eletromagnéticas ou de escoamento. Evidentemente, o contato mecânico é disponibilizado e habilitado para multifísica. Pode-se, por exemplo, permitir o fluxo de calor (requer o Heat Transfer Module) ou correntes elétricas (requer o AC/DC Module) através de contornos que estão em contato e fazer uso de tensões de contato para simular a extensão da corrente ou transferência térmica.

Cascas, Placas e Membranas
Cascas, com base na fórmulação de Mindlin-Reissner, são disponibilizadas para a análise estrutural de estruturas com paredes finas, onde deformações transversais por cisalhamento são levadas em conta para que você também possa simular cascas espessas. Também é possível prescrever um deslocamento na direção normal a uma superfície selecionada. A interface Shell também inclui outros recursos como amortecimento, expansão térmica, e tensões e deformações iniciais. Os estudos predefinidos disponíveis são os mesmos que para a interface Solid Mechanics. Semelhante a interface Shell, a interface Plate atua em um único plano, mas usualmente somente com carregamentos para fora do plano.
A interface Membrane modela elementos de tensão plana curvados em 3D, que têm a possibilidade de deformar nas direções do plano e na direção para fora do plano. A diferença entre uma casca e uma membrana é que a membrana não possui nenhuma rigidez à curvatura. Essa interface é adequada para modelar estruturas como filmes finos e tecidos.
Vibrações, Acústica e ondas Elásticas
Diversos recursos são disponibilizados para análise de vibrações opcionalmente acoplados à acústica com o Acoustics Module. Ao combinar o Structural Mechanics Module e o Acoustics Module, ganha-se acesso a uma ferramenta dedicada para interações acústica-casca. O Acoustics Module possui interfaces físicas adicionais para interações sólido-acústica e piezoacústicas. Para ondas elásticas se propagando em um material, o Structural Mechanics Module oferece contornos de baixa reflexão e camadas perfeitamente casadas onde ondas elásticas emitidas são simuladas como sendo absorvidas. Essa funcionalidade facilita a modelagem de ondas que se propagam para fora de uma estrutura vibratória em meios relativamente grandes ou infinitos.
Avaliação da Fadiga
Adicionando o Fatigue Module às análises de mecânica estrutural, você pode realizar cálculos da vida de fadiga estrutural. Os métodos de fadiga de alto ciclo e baixo ciclo, e análise de danos cumulativos são disponibilizados. O Fatigue Module é fortemente integrado ao Mechanics Module e você permanece no ambiente do COMSOL Desktop® para simulações de mecânica estrutural e fadiga. O Fatigue Module pode ser usado junto com as interfaces Solid Mechanics, Shell, Plate e Multibody Dynamics, bem como para as interfaces físicas que simulam tensões térmicas, aquecimento por efeito Joule junto com dilatação térmica, e dispositivos piezelétricos.
Vigas e Treliças
Elementos de viga no Structural Mechanics Module destinam-se à análise de estruturas delgadas (vigas) que podem ser descritas plenamente por propriedades transversais, como áreas e momentos de inércia. Eles simulam estruturas de quadro, tanto planas quanto em 3D, e podem ser acoplados a outros tipos de elemento, como para analisar reforços de estruturas sólidas e de casca. A interface Beam inclui uma biblioteca para seções transversais de vigas retangulares, quadradas, circulares, tubulares, com perfil em H, com perfil em U e com perfil em T. Outros recursos incluem amortecimento, expansão térmica, e tensões e deformações iniciais. Uma interface física em 2D distinta, chamada de Beams Cross Section, pode ser usada a fim de avaliar propriedades transversais de seções transversais em 2D arbitrárias para uso como entradas em análises de vigas.
A interface Tuss pode ser usada para modelar estruturas delgadas que só podem sustentar forças axiais. As treliças permitem a especificação de pequenas deformações, bem como de grandes deformações. Exemplos de estrutura em treliça são os trabalhos em treliça com bordas retas e cabos expostos a forças gravitacionais (cabos catenários). Outros recursos incluem amortecimento, expansão térmica, e tensões e deformações iniciais.
Tensão Térmica
Ao mesmo tempo que o Structural Mechanics Module trabalha junto com o COMSOL Multiphysics e pode ser integrado a outros módulos complementares para modelar diferentes aplicações multifísicas, ele inclui várias interfaces multifísicas específicas. Por exemplo, a interface Thermal Stress é semelhante à interface Solid Mechanics com a adição de um modelo de material elástico linear térmico. Essa pode ser usada em conjunto com várias interfaces de transferência térmica para acoplar o campo de temperatura à dilatação de uma estrutura (material). Uma interface multifísica especial Thermal Stress and Joule Heating combina tensões térmicas com o aquecimento por efeito Joule e descreve a condução da corrente elétrica em uma estrutura, o subsequente aquecimento elétrico causado por perdas ôhmicas na estrutura e as tensões térmicas induzidas pelo campo de temperatura.
Recursos Adicionais de Modelagem Mecânica em Outros Módulos
O MEMS Module oferece ferramentas dedicadas para simulações estruturais específicas para sistemas micromecânicos. São oferecidas interfaces físicas para piezorresistividade, deflexão eletromecânica, vibração termoelástica e ferramentas de modelagem mais avançadas para analisar dispositivos piezelétricos. De uma perspectiva de análise mecânica, o Acoustics Module cobre a vibração estrutural junto com ondas de pressão acústica e propagação de ondas elásticas e poroelásticas. O Subsurface Flow Module melhora a interface Solid Mechanics acrescentando as funcionalidades de poroelasticidade escoamento em meios porosos.
CAD e Otimização
O CAD Import Module possibilita importar uma variedade de tipos de arquivo CAD padrão comuns na indústria, possibilita operações de limpeza e reparo de geometria para prepararação dos modelos CAD para a geração de malha e simulações. O CAD Import Module também oferece o kernel geométrico Parasolid® para operações com sólidos mais avançadas do que as que kernel nativo do COMSOL suporta. Para a simulação mecânica de estruturas eletrônicas, o ECAD Import Module oferece importação de layout eletrônico. Ao analisar uma peça ou montagem mecânica, é vital manter o modelo paramétrico do CAD nativo para que estudos de parâmetro e otimização possam ser realizados sem ter que reconstruir os parâmetros do modelo. Isso é possível usando os produtos LiveLink™ para CAD disponibilizados para vários sistemas CAD em destaque: SolidWorks®, SpaceClaim®, Inventor®, AutoCAD®, PTC® Creo Parametric®, Pro/ENGINEER® e Solid Edge®. Esses produtos oferecem atualizações simultâneas da geometria e parâmetros sistema CAD e no COMSOL e permitem varreduras paramétricas e a otimização de vários parâmetros de modelagem diferentes. Ao incluir o Optimization Module, é possível realizar a otimização automática de dimensões geométricas, carregamentos nos contornos ou propriedades de materiais.
Dispositivos Piezelétricos
A interface Piezoelectric Devices combina os recursos de modelagem de Mecânica dos Sólidos e de Eletrostática do COMSOL em uma ferramenta totalmente acoplada para modelagem de materiais piezelétricos. O acoplamento piezelétrico pode ser na forma de carga por tensão ou carga por deformação com cálculo totalmente acoplado de varredura de frequência, análise modal e transientes. Todas as funcionalidades de mecânica dos sólidos e eletrostática são acessíveis através dessa interface física para modelar os sólidos elásticos lineares ou domínios de ar circundantes, bem como camadas dielétricas, por exemplo.
Interações Fluido-Estrutura (FSI)
A interface multifísica Fluid-Structure Interaction (FSI) combina escoamento com a mecânica dos sólidos para captar a interação entre o fluido e a estrutura sólida. As interfaces Solid Mechanics e Laminar Flow modelam o sólido e o fluido, respectivamente. Os acoplamentos FSI ocorrem nos limites entre o fluido e o sólido e podem incluir a pressão do fluido e as forças viscosas, bem como a transferência de momento do sólido para o fluido de modo bidirecional – FSI. O método usado para FSI é conhecido como método Lagrangiano-Euleriano arbitrário (ALE).
Structural Mechanics Module
Product Features
Acoustic-structure interaction 1
Beams
Biomechanics
Buckling and postbuckling
Contact analysis
Fatigue evaluation 2
Fluid-structure interaction (FSI)
Geometric nonlinearity
Large deformation
Lubrication and elastohydrodynamics 3
Membranes
Modal analysis
Multibody dynamics 4
Nonlinear materials 5
Piezoelectric devices
Poroelasticity 6
Prestressed structures
Rotordynamics
Shells
Solids
Stress-optical effects
Structural contact and friction
Structural optimization 7
Structural vibrations
Thermal stress
Trusses
---
1Together with the Acoustics Module
2Together with the Fatigue Module
3Together with the CFD Module
4Together with the Multibody Dynamics Module
5Together with the Nonlinear Structural Materials Module and the Geomechanics Module
6Together with the Subsurface Flow Module
7Together with the Optimization Module
Modeling Mechanical Applications in COMSOL Multiphysics
COMSOL Multiphysics is the ideal solution for exploring the interaction between structural mechanics and other physics, such as fluid-structure interaction (FSI), acoustics and electromechanics. This is largely because COMSOL uses the industry standard finite element method, expanded for present day multiphysics requirements. Watch the video to learn more about modeling mechanical applications.
Structural Mechanics Module
Sonar Dome Vibration Analysis
Francesca Magionesi
INSEAN
Italy
There has been a recent move towards utilizing bulbous bows on ships to house different types of sonar systems, but it is not definite how much structural vibration might interfere with the functioning of a transducer array inside the sonar dome. INSEAN, the National Institute for Studies and Experiments of Naval Architecture in Italy, needed a ...
Multiphysics Analysis of CO2 Foil Thrust Bearing Characteristics
Treevor Munroe
Knolls Atomic Power Laboratory, Niskayuna, NY

Knolls Atomic Power Laboratory (KAPL) is a research and development facility supporting the United States Naval Nuclear Propulsion Program. KAPL recently collaborated with Bettis Atomic Power Laboratory to test a supercritical carbon dioxide (S-CO2) Brayton power cycle system. The system was designed to operate at high speed and high gas ...
Analysis of Subsea Umbilicals and Cables
Tim Poole, JDR Cables, Cambridgeshire, UK
and
Mark Yeoman, Continuum Blue, Hengoed, UK
JDR Cables designs-to-spec and manufactures subsea umbilical systems of cables and reelers for the oil and gas and renewable energy industries. In these designs, the harsh environments of deep water pressure, wind and waves, as well as the rough ocean floor must all be considered, along with the forces acting on cables from being pulled and ...
Simulation-Based Design of New Implantable Hearing Device
Patrik Kennes
Cochlear Technology Centre, Mechelen, Belgium


Cochlear Technology Centre Europe (CTCE) develops new technology for hearing implants. Their current work is with a new type of hearing implant, a Direct Acoustic Cochlear Implant called CodacsTM. This product imposes structural, pressure waves directly to the cochlea, stimulating it this way, as opposed to amplifying sound. Using COMSOL ...
Simulation-Based Engineering Fosters Innovation and Invention
Ozgur Yildirim and Zihong Guo
Intellectual Ventures
Bellevue, WA
Simulation-based engineering is the key to shortening time to market for innovations. Intellectual Ventures, in Bellevue, WA, is reaping the benefits of using COMSOL Multiphysics to accelerate their workflow from design study to prototype, and then on to their customers as inventions through various partnerships and licensing programs. Projects ...
Pushing the Limits of Chip Density
Derek Bassett and Michael Carcasi
Tokyo Electron America
Austin, TX
Chip manufacturers have been adhering to Moore's law, a law stating that the number of transistors that can be economically placed on an integrated circuit doubles every year, since 1965. As the number of transistors increases, however, the process of manufacturing integrated circuit, called photolithography, becomes more difficult. Each device ...
Sonar Dome Vibration Analysis
Multiphysics Analysis of CO2 Foil Thrust Bearing Characteristics
Analysis of Subsea Umbilicals and Cables
Simulation-Based Design of New Implantable Hearing Device
Simulation-Based Engineering Fosters Innovation and Invention
Pushing the Limits of Chip Density
Structural Mechanics Module
Hyperelastic Seal
In this model you study the force-deflection relation of a car door seal made from a soft rubber material. The model uses a hyperelastic material model together with formulations that can account for the large deformations and contact conditions.
Composite Piezoelectric Transducer
This example shows how to set up a piezoelectric transducer problem following the work of Y. Kagawa and T. Yamabuchi. The composite piezoelectric ultrasonic transducer has a cylindrical geometry that consists of a piezoceramic layer, two aluminum layers, and two adhesive layers. The system applies an AC potential on the electrode surfaces of both ...
Peristaltic Pump
In a peristaltic pump, rotating rollers squeeze a flexible tube. As the rollers move along the tube, the fluid in the tube follows the motion. The main advantage of the peristaltic pump is that no seals, valves or other internal parts ever touch the fluid. Due to their cleanliness, peristaltic pumps have found many applications in the ...
Fluid-Structure Interaction in a Network of Blood Vessels
This model refers to a portion of the vascular system of a young child - the upper part of the aorta artery. The blood vessels are embedded in a biological tissue (the cardiac muscle) and, during the flow of blood, pressure is applied to the internal surfaces producing deformation of the vessel walls. The complete analysis consists of two ...
Piezoelectric Shear-Actuated Beam
The model performs a static analysis on a piezoelectric actuator based on the movement of a cantilever beam, using the Piezoelectric Devices predefined multiphysics interface. Inspired by work done by V. Piefort and A. Benjeddou, it models a sandwich beam using the shear mode of the piezoelectric material to deflect the tip.
Thickness Shear Mode Quartz Oscillator
AT cut quartz crystals are widely employed in a range of applications, from oscillators to microbalances. One of the important properties of the AT cut is that the resonant frequency of the crystal is temperature independent to first order. This is desirable in both mass sensing and timing applications. AT cut crystals vibrate in the thickness ...
Thermal Stresses in a Layered Plate
The thermal stress in a layered plate is studied in this example. A plate consisting of two layers, a coating and a substrate layer is stress and strain free at 800 degrees C. The temperature of the plate is reduced to 150 degrees C and thermal stresses are induced. A third layer, the carrier layer, is added and the thermal stresses in the coating ...
Heating Circuit
Small heating circuits find use in many applications. For example, in manufacturing processes they heat up reactive fluids. The device used consists of an electrically resistive layer deposited on a glass plate. The layer causes Joule heating when a voltage is applied to the circuit. The layer's properties determine the amount of heat ...
Snap Hook
This model simulates the insertion of a snap hook in its groove. Fasteners like this are common in the automotive industry, for example, in the control panel of a car. In this case it is important to know the force that must be applied in order to place the hook in the slot but also the force needed to remove it. From a numerical point of view, ...
SAW Gas Sensor
A surface acoustic wave (SAW) is an acoustic wave propagating along the surface of a solid material. Its amplitude decays rapidly, often exponentially, through the depth of the material. SAWs are utilized in many kinds of electronic components, including filters, oscillators, and sensors. SAW devices typically apply electrodes to a ...
Hyperelastic Seal
Composite Piezoelectric Transducer
Peristaltic Pump
Fluid-Structure Interaction in a Network of Blood Vessels
Piezoelectric Shear-Actuated Beam
Thickness Shear Mode Quartz Oscillator
Thermal Stresses in a Layered Plate
Heating Circuit
Snap Hook
SAW Gas Sensor